Since the moment the so-called "Freedom Day" of 19th July 2021 was announced, marking the end of coronavirus pandemic restrictions in England, people have been anticipating the event. After a long period of staying socially distant, wearing masks at all times, and avoiding any and all public spaces, a lot of people will be glad to leave the events of the last year behind. However, it is completely understandable that for many the prospect of "Freedom Day" is an intimidating one. Life under pandemic restrictions has rapidly become the new normal and the lifting of restrictions, returning to the old normal, could be regarded with some apprehension.
Over the past year, surveys conducted to assess the response of the public to the pandemic have indicated widespread feelings of anxiety over the easing of restrictions, the number of people expressing concerns ranging from one third of those asked to more than two thirds. Having to venture out into crowded public places whilst shopping, using public transport and the end of remote working were among the biggest sources of stress. As a whole, being placed in situations where close contact with others is hard to avoid often causes anxiety over safety, meaning "Freedom Day", and the increased mobility that accompanies the lifting of restrictions, may not feel so liberating after all.
This anxiety translates to more than just putting a mask on or avoiding physical contact with one's friends and family; rather, it extends to a wider concern over hygiene as a whole. One of the major reasons provided for why employees felt anxious about returning to onsite working was worries over workplace cleanliness, with 37% of those surveyed concerned about becoming unwell as a result. Indeed, despite the 19th July being hailed by some as the end of the pandemic, the reality is many people still may be at risk of contracting coronavirus, and as of June 2021, more than a third of people have expressed that they are still concerned about doing so.
As such, in order to reassure your staff, customers, service users or whoever else might be visiting your business premises of their health and safety, continuing the regular and thorough cleaning that has become the standard since the onset of pandemic is essential. According to surveys, 91% of people agreed that they are more aware of cleaning outside the house since the start of the pandemic, as a result of the necessity for greater hygiene, so it is imperative that your business keeps cleanliness at a high standard. Failing to do so could harm your brand reputation; improper hygiene will discourage people from returning to your business or even choosing to visit in the first place.
Unfortunately, the past year has proven that every time coronavirus restrictions are eased or lifted, there is a large rise in positive cases reported, as a result of people moving and mixing with each other more freely. As figures were already signifying a rise in cases before the lifting of restrictions, this trend will surely continue, if not worsen. In fact, researchers currently estimate that new coronavirus infections could increase to 100,000 a day in England after the lifting of restrictions, a rather alarming statistic. Thus, it is vital that businesses are prepared for this possibility, and continue to keep cleaning thoroughly a top priority in order to protect customers and employees alike from this threat.
Even if restrictions and rules are no longer enforced by law or by your business specifically, it is important to respect those who may wish to continue to take their own personal precautionary measures. A recent poll found 55% of adults and young people expressing concern over having to interact with others when restrictions are lifted; continuing to implement one-way movement strategies, as well as leaving plenty of space in any seating areas, in the workplace might be useful for such people, to help them to remain socially distant should they choose. Hand sanitising stations are also a very easy method of both reassuring and protecting people in the workplace. Research has shown that regular hand sanitising doesn't just prevent coronavirus transmission, it can also have a real benefit in reducing illness in the workplace as a whole, improving overall business productivity.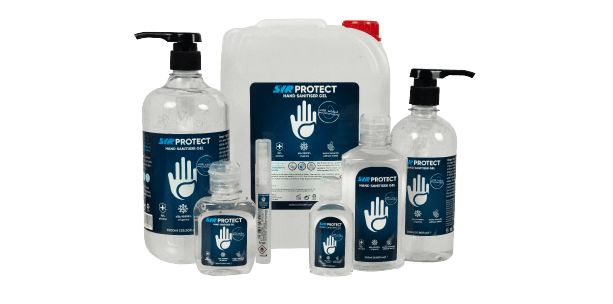 SYR is here to support you through all of your cleaning needs.
For the last 67 years, SYR has been here to provide intelligent solutions to our customers' cleaning needs, and we will continue to do so, no matter what challenges us or our customers might face. We are proud to say that throughout the pandemic we not only maintained our high quality service, but we also did not raise our prices, unlike many of our competitors. Helping our customers remain safe has stayed our number one priority.
To learn more about how SYR can help you and your business, get in touch with us today, or check out our 2021 Product Catalogue to explore our full range of high quality cleaning and hygiene supplies.