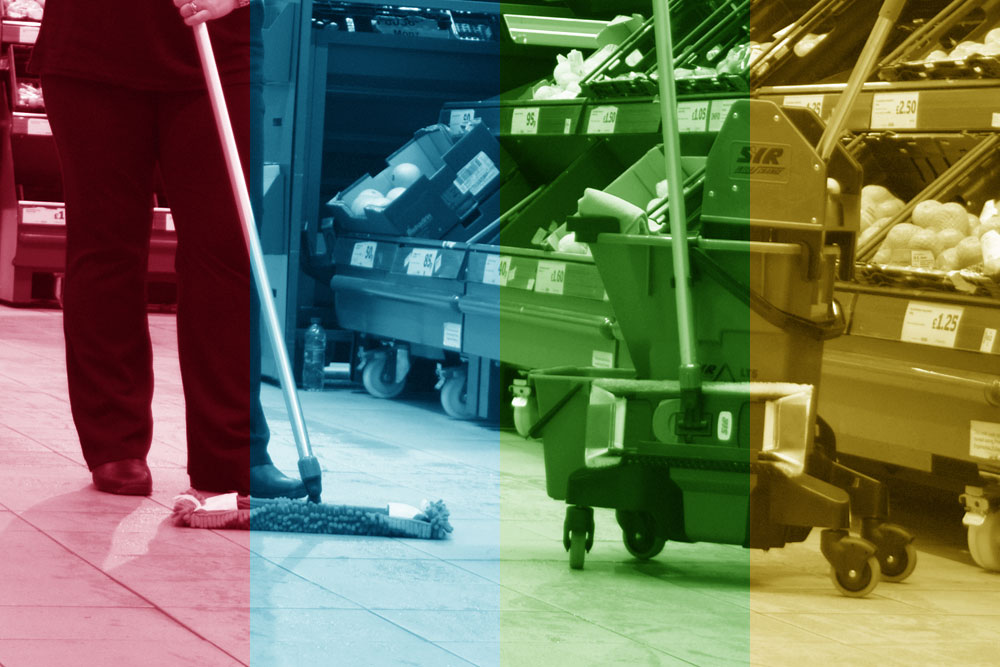 Why colour code?
You wouldn't – we hope – clean your toilet and then take the same cleaning equipment and use it in your kitchen.
But what if someone else had cleaned the bathroom and you didn't know what they had used? That's why everyone should colour code.
Colour coding is essential in healthcare settings to prevent cleaning equipment and materials being used in multiple areas, with the risk of cross-infection.
A decade ago the National Patient Safety Agency developed a National Colour Coding Scheme for cleaning materials to standardise what had been a varied system.
It means domestic staff moving organisations, or even simply working on multi-sites, will find the same system in operation.
And there may be occasions when nursing staff deal with incidents such as spills of bodily fluids. It is important they do not use the wrong equipment before putting it back in the cleaning cupboard to be used again.
The NPSA recommends that all cleaning material and equipment – for example all cloths (including disposable), mops, buckets, aprons and gloves ­–­ should be colour coded, and that this should be clear and permanent.
Colour code is:
Red – bathrooms, washrooms, showers, toilets, basins and bathroom floors
Blue – general areas including wards, departments, offices and basins in public areas
Green – catering departments, ward kitchen areas and patient food service at ward level
Yellow – isolation area
SYR offers an extensive range in line with the national colour coding scheme. Colour coded products include mopping systems, mop handles and mopheads, spill kits, bins, bowls and cloths.
While the NPSA scheme states that bleaches and disinfectants do not need to be colour coded, SYR has gone one step further by colour coding its chemicals. This makes the correct choice foolproof even for non-English speaking staff who may not be able to read the labels. Blue chemical goes in the blue bucket – it's as simple as that!
Healthcare settings such as care homes or GP surgeries looking to introduce colour coding should look to apply the same, recognised standard across all sites and can get advice from the healthcare team at SYR on 01384 421421.