SYR's Global Product Catalogues for 2023/24 are now live.
The all new and updated Product Catalogues for the UK, USA and Canada are now available for download and online viewing. Containing all of the products from SYR's wide inventory of high quality cleaning tools, including classic SYR favourites and brand new products, our catalogues are the best way to learn about how SYR can help your business meet your cleaning goals. With full descriptions and specifications, each entry is supplemented with high resolution photography, illustrations and even product videos, the next best thing to having the product in your hands.
Our Product Catalogues are more than just a directory of all SYR products. We have also designed them to be a useful resource for aiding our customers in achieving their cleaning goals. SYR has everything you need for forming a complete system of cleaning. New features such as an area cleaning guide and the handy 'Which Mop Fits'  (a key for identifying which SYR mops and buckets work well together) make it easier than ever for customers to find exactly what they're looking for and make sure standards are maintained.
SYR is a company that is constantly changing. With our focus on innovation from the very beginning, we are constantly working to develop our existing products and create new ones to help take our customers' cleaning to the next level. The 2023 catalogues feature several brand new products, including the Rapid Response One.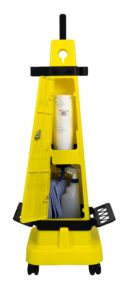 Available now for customers in the UK, USA and Canada, the Rapid Response One is the next stage in SYR's safety sign evolution. Functioning as a 2-in-1 caution cone and small trolley system, this innovative product has a unique hidden storage area – an internal lockable cupboard in the centre of the cone, ideal for holding small cleaning tools like cloths, spare mops and spray bottles.
A durable polypropylene tall cone with side tool holders and castors, the RR1 is perfect for getting to the cleaning site quickly to help prevent accidents from occurring, whilst keeping all you need for daily cleaning or spill management close at hand.
This will be a valuable addition to our international product catalogues, and perfect for the busy, fast-moving environments that SYR are used to clean on a global scale.
SYR are a truly global company, with three international manufacturing bases and customers everywhere from France to the Philippines. One of the main reasons we have had so much success on a global scale is because we acknowledge that cleaning isn't a one-size-fits-all process. Different countries will have different standards and requirements for their cleaning, and SYR has met these demands by offering product catalogues specifically tailored to each location.
Customers can now read all catalogues via the SYR website. Simply go to 'Catalogues' from the menu at the top of the SYR homepage and select the global catalogue that is relevant to you. When viewing the website on mobile devices, the menu can be accessed by clicking the three horizontal bars at the top of the screen.
Using these links, each of the catalogues can be read directly on the webpage or downloaded for offline viewing.
For the first time ever, SYR's Product Catalogues will be primarily digital. This is a part of SYR's on-going scheme of digitalising our business, improving efficiency and saving money and resources.
In addition to the time and costs associated with printing, traditional paper solutions carry with them an overall large carbon footprint, an estimated 4 times as much compared to the calculated annual CO2 emissions from IT. This is because, even though paper does not use up any energy when in use, when you look at the entire lifecycle of the material it requires significant amounts of energy to produce, from deforestation and the processing of pulp to the printing itself.
Going digital for the release of our UK, USA and Canada Product Catalogues will help us avoid the emissions associated with paper and printing, as well as reducing a large volume of waste in the long term.
SYR pride ourselves in being at the forefront of the cleaning industry, and so our catalogues are always changing, with new products being added and frequent changes and updates made to artwork, descriptions and the products themselves. Because of this, physical catalogues may need to be reprinted several times to keep them up-to-date, and the previous editions are discarded as waste. The main benefit of digital catalogues is that changes can be made quickly and easily, instantly updating links and PDFs and generating no waste at all.
Aside from being a better option for the environment, digital catalogues are also more accessible. Available anytime and from anywhere via the SYR website, the Product Catalogues can be viewed on multiple devices, including mobile phones, tablets and desktop computers, and can be easily shared.
UK catalogues will have a limited print run later in the year to share the catalogue with those who prefer a physical option, but choosing to go majority digital remains the best choice for the environment and for SYR as a modern company.