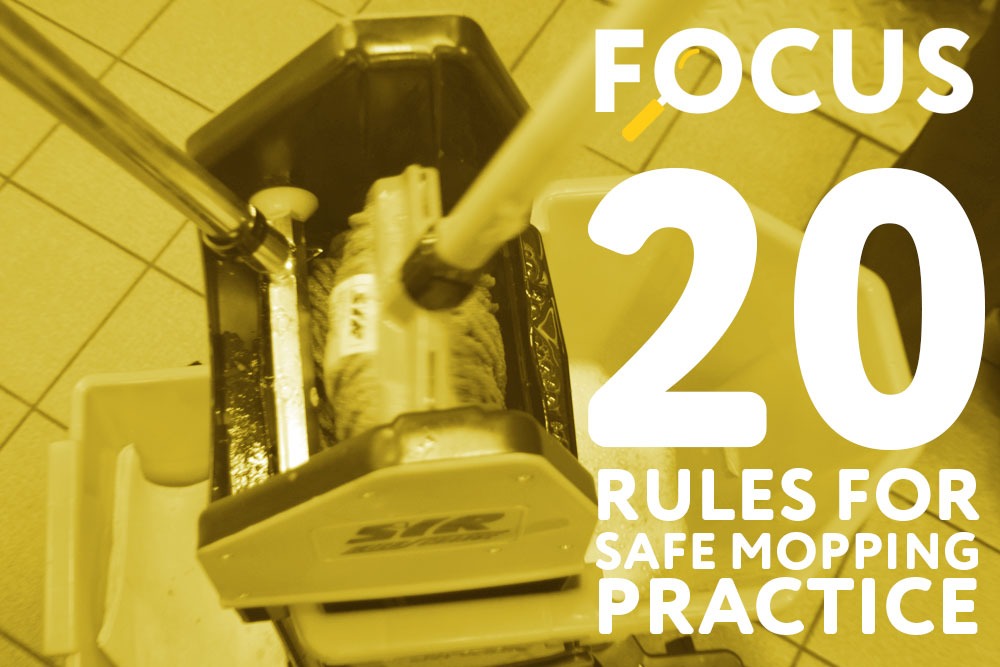 20 rules for safe mopping practice
Julie Brittain-Twohey who heads up our FOCUS team takes us through the safe mopping practice with these 20 top tips to help you work safely and effectively.
All equipment – bucket, mop and handle – should be clean, damage free, fit for purpose and stored securely.
Select equipment appropriate to the environment: the bucket should be suitable for the area of flooring to be mopped and the mop should fit the bucket.
Chemicals must be appropriate for the floor type, and accompanied by relevant and accessible COSHH data sheets. Read more about using chemicals safely here
Use colour coding. Equipment should be colour coded for general areas / toilet areas / kitchen and food areas to prevent cross contamination. Read more about colour coding here
Fill the bucket with water to the required level and then add the chemical to the water, using the correct dosage as per the manufacturer's recommendations. SYR buckets have portion control pods to simplify correct dosing for SYR chemicals.
Replace the lid on the chemical container, wipe any drips and place the chemical, label facing outward, back on the shelf.
Attach the mop to the required handle. SYR's Interchange handles fit a variety of mopheads so you only need one handle.
Where possible, mopping should only take place when the area is free from foot traffic or when slip-fall risks can be greatly reduced by isolating the area to be cleaned.
Ensure the area being cleaned is well ventilated and litter/clutter free.
Place warning signs in position.
Begin mopping at the furthest point from the exit, working backwards to the exit area.
Mop the edges first followed by systematic overlapping passes.
Regularly re-charge the mophead when required. Don't keep cleaning with a dirty mophead. Microfibre in particular will quickly become saturated by dirt.
Ensure the floor is dry before removing warning signs and closing windows, vents etc.
Reinstate the area.
Return equipment to the secure storage area.
Disposable or semi disposable mops should still be rinsed after use, turned upside down and left to air dry in a secure location, or disposed of in an appropriate waste receptacle.
If applicable, laundry facilities should be used to clean and maintain mops and hand cloths. Set temperature to a minimum of 900 to remove most harmful bacteria and use suitable detergents as per manufacturer's recommendations. Do not use fabric softener when laundering microfibre.
Ensure the cleaned equipment is stored correctly ready for use next time. Finally, secure the storage area. This concludes the safe mopping practice.
For more advice on how to mop safely, contact our FOCUS team.