Switch Framework with Kindred and Avica
What is Switch Framework?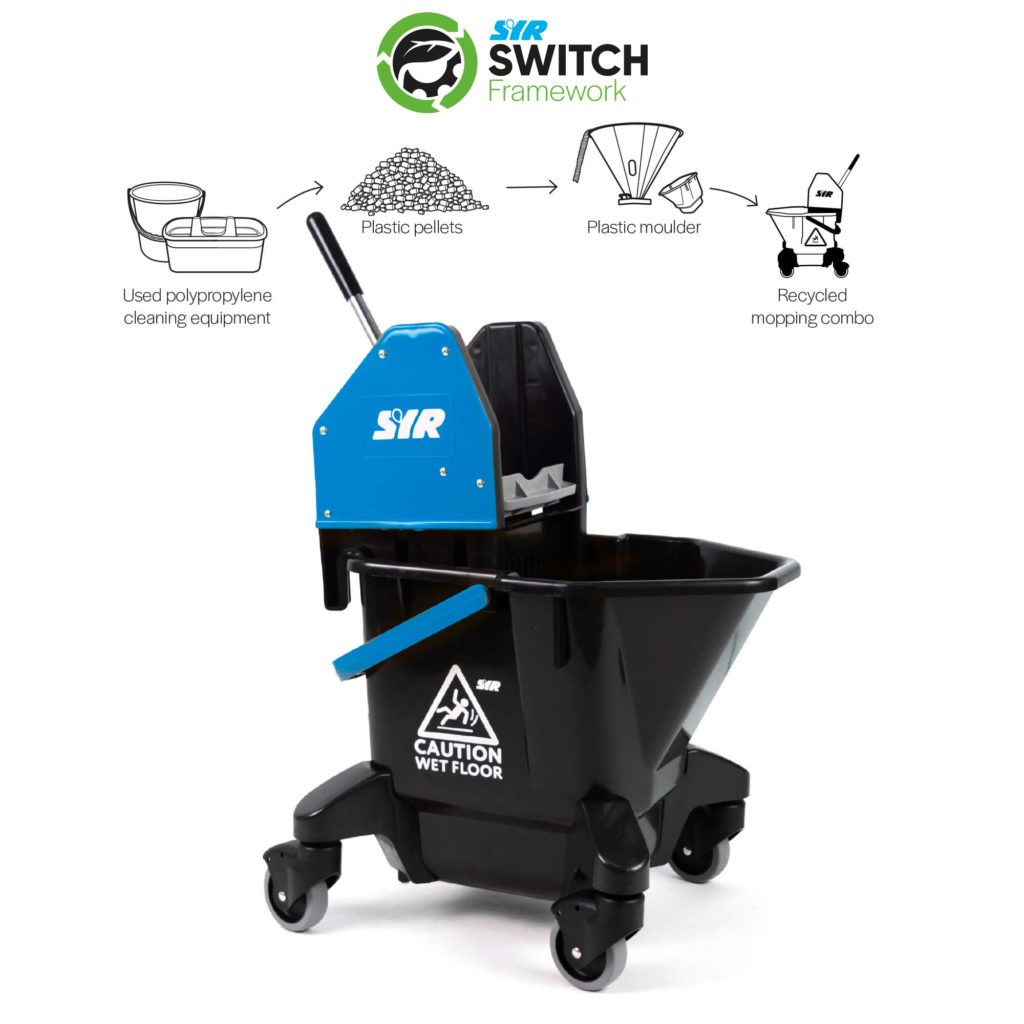 For a long time, SYR have been pioneers in eco-friendly cleaning solutions. As large scale manufacturers, we have always recognised our responsibility to the environment, and we are constantly working to offer sustainable alternatives to traditional cleaning products and methods. We were the creators of the world's first mopping combo made of totally recycled materials, and our award-winning Interchange range of handles and versatile cleaning tools were expressly designed to improve cleaning efficiency and reduce product waste.
As the next step in our sustainable development, we are doing our part towards creating a circular economy, introducing a system to further limit any negative impact that the cleaning industry may have on the planet. In the new Switch Framework scheme, would-be waste – old, broken or otherwise discarded cleaning tools – is saved from landfill, where it ordinarily would pollute the environment for years as they slowly decompose. Instead, the material is transformed using SYR's advanced plastic recycling and manufacturing process, supporting SYR's mission of a sustainable, zero-waste manufacturing environment. The result is brand new and ready-to-use products, SYR's premium SYR Switch range, made from recycled materials but just as efficient and durable as any virgin plastic product.
All SYR products are built with strength and durability in mind, but if after many years of service they become worn and need to be replaced, our customers now have the option to send old products back to us at no extra cost to them.
Part of the Jangro group, Avica is a fast growing supplier of cleaning, hygiene, catering, hospitality and healthcare products, stocking over 12,500 products from everyday essentials to specialist products, that are used in businesses all over the UK. Like SYR, they are passionate about delivering the best for their customers, finding practical solutions for any hygiene challenge, and they also share our commitment to sustainable development, something which informs their decisions at every level of the business.
Champions of eco-friendly product ranges since the beginning, Avica have already undertaken a number of measures to make their business more sustainable, including utilising their transport fleet to reduce carbon footprint. Switch Framework is the next step in this process, providing Avica and their customers with eco-friendly product alternatives to traditional cleaning tools. As a method of safely disposing of old or worn plastic cleaning tools, Switch Framework fulfils Avica's commitment to and passion for the environment by reducing the amount of waste that is destined for landfill. With Avica themselves collecting these used plastic cleaning tools and transporting them directly to SYR's recycling facility, it is made as easy as possible for users to reduce their waste production. Due to the high quality production of SYR's recycled products, Avica and their customers can also be sure that they are receiving a product that will maintain their high standards of cleaning.
All SYR products are built with strength and durability in mind, but if after many years of service they become worn and need to be replaced, our customers now have the option to send old products back to us at no extra cost to them.
Switch Framework is helping businesses like Kindred support the environment with every area they clean.
In Switch Framework's mission to create a closed loop programme for commercial cleaning equipment, SYR are working with Avica to deliver eco-friendly solutions to customers like Kindred, a contract cleaning service working primarily in the education sector. Describing themselves as a values-led business, Kindred aim to go above and beyond to make schools safe and clean for staff and students alike. They are also committed to leading the way when it comes to operating their business in a sustainable way, so they are constantly seeking cleaning tools that work effectively without serious impact on the environment.
When the plastic cleaning tools, including buckets and mopping combos, used by Kindred become worn and need to be replaced, Avica will collect these products at no extra cost to the customer, after which they will recycled by SYR. Kindred cleaning teams will then be supplied with sustainable product alternatives – the TC20-R and LTS-R, SYR's innovative mopping combos made from high quality recycled materials, expressly designed to clean just as effectively as any virgin plastic product. With these products, Kindred cleaning services can be sure of an exceptional standard of cleaning, with the added bonus of each product reducing plastic production by 90% compared to similar size mopping system.
As a circular economy, what makes Switch Framework special is that is it mutually beneficial for all parties involved, and has environmental benefits at every level, from manufacturing to end use. For SYR, Switch Framework helps us towards our goal of a sustainable manufacturing environment, and as using recycled materials saves energy that would have been needed to manufacture virgin plastics, reduces our carbon footprint in the process. For Kindred and Avica, Switch Framework will also reduce the impact that their business has on the environment. With Kindred cleaning more than 250 schools on a daily basis, the amount of equipment needed to clean can accumulate into large numbers in a relatively short period of time, so even the simple step of switching old cleaning tools for recycled plastic alternatives can end up having a big impact in terms of how much material is saved from polluting the environment.