INCORPORATE COLOR CODING IN YOUR WORKPLACE
INCORPORER LE CODE COULEUR DANS VOTRE LIEU DE TRAVAIL
WHAT IS COLOR CODED CLEANING
QU'EST-CE QUE LE NETTOYAGE AVEC CODE COULEUR
In the late 1990's the British Institute of Cleaning Science (BICSc) began to develop a universal color code which would be recommended for use in the UK cleaning industry. This process of color coding became so successful it is now adopted throughout the rest of the world.

Color coded cleaning is the process of designating colors to cleaning equipment in certain areas of a venue, reducing the spread of germs across areas and increasing hygiene throughout a business or home. The four main colors used to separate out areas – such as bars, public areas, kitchen & food preparation areas and restrooms – are red, blue, green and yellow.
À la fin des années 1990, le British Institute of Cleaning Science (BICSc) a commencé à se développer un code de couleur universel qui serait recommandé pour une utilisation dans l'industrie du nettoyage au Royaume-Uni. Ce processus de codage couleur a connu un tel succès qu'il est maintenant adopté dans le reste du monde.

Le nettoyage à code couleur est le processus de désignation des couleurs pour nettoyer l'équipement dans certaines zones d'un lieu, réduisant la propagation des germes dans les zones et augmentant l'hygiène dans toute l'entreprise ou à la maison. Les quatre couleurs principales utilisées pour séparer les zones – telles que les bars, les espaces publics, la cuisine & amp; les zones de préparation des aliments et les toilettes – sont rouges, bleues, vertes et jaunes.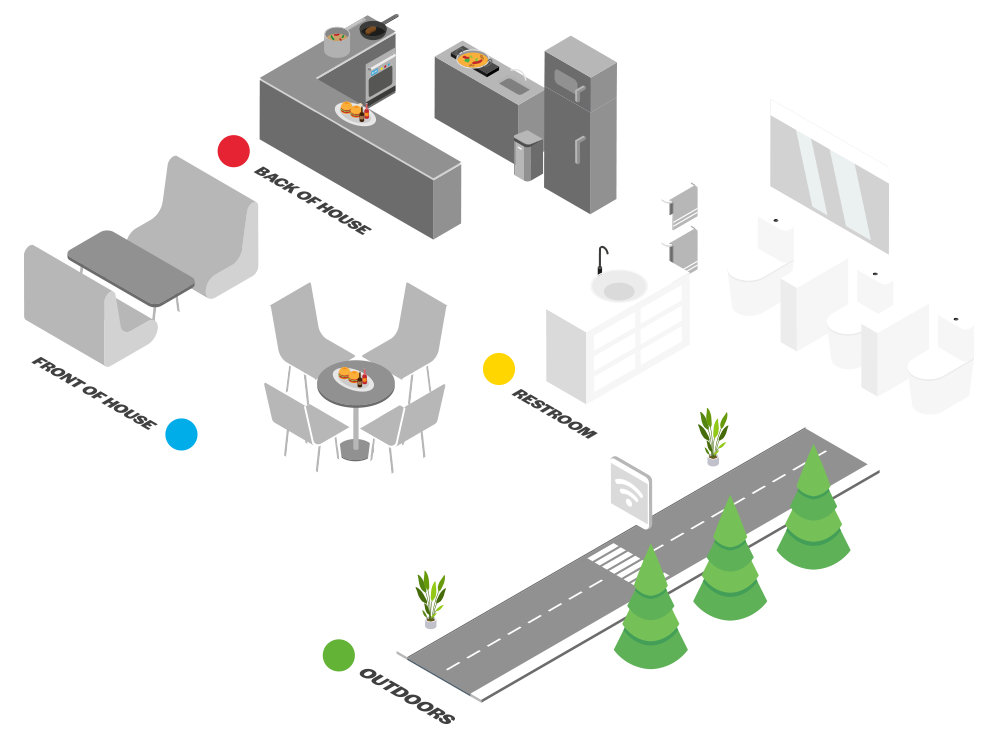 WHERE IS COLOUR CODING USED AND WHO USES IT?
O LE CODE COULEUR EST-IL UTILISÉ ET QUI L'UTILISE?
The color coordination of cleaning products can vary from business to business and the system you choose is entirely up to you. However, the above guide is the most broadly accepted system that most catering establishment adhere to. The color you assign to each area is your choice, so long as your staff members are trained on the system you choose.

Choosing to employ a color system in your workplace can make cleaning easy, efficient and in turn increase general hygiene and cleanliness.
La coordination des couleurs des produits de nettoyage peut varier d'une entreprise à l'autre et le système que vous choisissez dépend entièrement de vous. Cependant, le guide ci-dessus est le système le plus largement accepté que la plupart des services de restauration établissement adhèrent. La couleur que vous attribuez à chaque zone est votre choix, à condition que les membres de votre personnel soient formés au système que vous choisissez.

Choisir d'utiliser un système de couleurs sur votre lieu de travail peut rendre le nettoyage facile, efficace et, par conséquent, augmenter le niveau général hygiène et propreté.
The Benefits of Color Coding
Les avantages du codage couleur
– Reduces potential risk of cross contamination
– Encourages proper product use
– Quick visual indicator for managers
– Removes language barriers
– Simplifies training a diverse workforce
– Easy to separate and organize tools
– Increases consumer confidence in cleanliness
– Reduces risk of spread of infections
– Réduit le risque potentiel de contamination croisée
– Encourage une bonne utilisation du produit
– Indicateur visuel rapide pour les managers
– Supprime les barrières linguistiques
– Simplifie la formation d'une main-d'œuvre diversifiée
– Outils faciles à séparer et à organiser